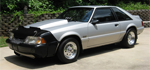 Owner:
Doctor DeBo
Year:
1992
Model:
Mustang LX
Mods:
Heavy
State:
GA
Type:
Nice Weather
ET Range:
Unknown
[
Read Specs
]
See more rides
Angela Cole's 2003 Mustang GT
Say hello to Angela Cole, also known as Female Power regular BAD_98_GT_CONV, who is now, RedHott_03MustangGT. Please try to keep up and don't shoot the Editor for the confusion! It's all Angela's fault! The woman changes cars as often as most of us change shoes or hairstyles! Over the years she's owned a laundry list of awesome 'stangs including a 1985 Hatchback, 1994 Convertible LX, and of course a 1998 GT 'vert, which was traded in for her current 2003 Mustang GT. You are p...
[
Read More
]
See more articles
Which is the most performance restrictive aspect of a stock 87-95 5.0?
---
The Stock Heads (E7TE's).


Result: 38%
The Stock Intake.


Result: 14%
Stock cam or someother components (TB, MAF, PCM, etc.).


Result: 2%
Both the Stock Heads and Intake suck the same, changing one with out the other is useless to you.


Result: 46%
---
Register or login to vote on this poll